When it comes to postponing your wedding, looking at new dates, and coordinating with your vendors, we know there are so many little things to consider. It's very easy to feel overwhelmed in this situation, and unsure of what to do. We understand that this is not what you thought planning your wedding would look like… We totally get it. So we're here to help, in the best way we know how: by presenting you with the options, bringing in postponement tips from the pros, and walking through this process alongside you.

Today we have 4 pros on the blog, to share their expert advice with you as you look at postponing your wedding. Plus each vendor will be sharing some key "things to consider" that you may not have even thought about! Join Moments by Madeleine, Flowers by Janie, Twenty Twenty Photography, & Bellamore Beauty, as each professional shares postponement tips and advice in their respective fields.

To go alongside these helpful tips is a stunning winter wedding shoot at Sky Bistro. This styled shoot captures some perfect moments of winter, warmth, and romance, showing us all that postponing to a winter wedding can still allow you to have the most beautiful day.
---
advice from moments by madeleine
Tips from a Planner
---
Our Tip: CONSIDER YOUR GUEST LIST
Your wedding is unique and there are a lot of factors that will go into your decision about if and when you should postpone. There is not a one size fits all solution, but a great place to start is your guest list. Having a large number of international guests, larger guest list to begin with, or a number of high risk guests are important factors to consider when making the decision to postpone and when to postpone to. If your guest list has a higher number of these factors, the decision to postpone may be more evident, than a 50 person wedding of all domestic guests of a younger age.

If you have a wedding in the next few months involving a guest list with any of these three factors, we would recommend you begin the postponement conversation with your spouse and your vendors, and begin to look at dates in late 2020. If guests closest to you, who may be considered higher risk to COVID-19, need to stay home due to health risks, consider the option of live streaming OR begin the conversation of postponement sooner than you would otherwise. If your guest list doesn't have as many of these factors, and isn't in the next couple months, you have a bit more time before needing to make that postponement decision (always no later than 60 days prior!).


Something to Consider
It's been months, maybe years, leading up to your original date. Moving your wedding a couple months or a year later is incredibly emotional, and we TOTALLY get that! So recognize that original date! Order in some takeout (steaks, Chinese, tacos, you do you!), open a fancy bottle of champagne, eat cake, and push your living room furniture to the walls to dance to your first dance song.

If you are able to get legally married on that day, and your heart is leaning that way, just do it! Practice social distancing, ask your photographer if they can capture it, FaceTime your parents in, order a bouquet and celebrate your commitment to one another. There are no rules for the COVID couples so do what makes your heart happy and content! Reach out to local vendors if you need support and remember you aren't in this alone! Let's make a memory that comes from vulnerability, resilience and above all else unconditional and uncontrollable love for each other. Sometimes all you need is nothing fancy, just love.

These past couple weeks have been so hard. It is not a wedding planner's dream to wake up and have to tell a couple that we need to look into postponing. We know this is stressful, trust me we are stressed too! It is so important to us that every couple feels that they understand all their options in reacting to this situation. It is totally okay to be worried, sad, upset, feel all your feelings but know your vendor team is right there with you! Need some help? Reach out! We are offering complimentary consultations as always to assist couples in making a decision. Let us help you make a decision out of facts and not fear!
Moments by Madeleine
---
advice from rocky mountain photo co
Tips from a Photographer
---
Our Tip: TRY TO RESCHEDULE FOR A 2020 DATE
I would definitely encourage couples to still aim for a reschedule date in 2020. At this stage, there will be very little Saturday availability in 2021 anyway, and you will be competing with weddings booked way in advance. And don't forget that it's not just venues you have to worry about when it comes to postponing your wedding – many of your vendors will be booked up for Saturdays throughout 2021 already, too. So, aim for rescheduling later on in 2020 on a date that works for your venue and your vendors.

Something to Consider
The mass postponement of weddings seriously affects your vendors' incomes, which is another reason to consider rescheduling in 2020 rather than in 2021.

If you do settle on a 2021 date, think about paying a higher deposit upfront to your vendor than you would have previously (if you are able)! Lots of wedding-related businesses are small and independently owned and will need help to get through this time, too.
---
advice from flowers by janie
Tips from a Florist
---
Our Tip: BE FLEXIBLE AND TRUST YOUR FLORIST
Couples need to understand that if their wedding changes to a new season, their wedding flower varieties might change as well. A May wedding wanting peonies and spirea might end up looking like a September wedding with dahlias and snowberries (currently a change I had to make with one couple who switched their date). Trust your overall floral look to your florist, we are the professionals and want you to have the best flowers for your wedding date. Your florist will create something beautiful with the seasonal blooms available.

Keep in mind there could be world wide flower shortages due to flower farms scaling back on production during COVID-19 or closing altogether. We will try to source most of our blooms locally from Alberta + BC and supplement with imported blooms when possible. Please know your wedding florist will do their very best job to find the prettiest blooms for your wedding day but remember to be flexible with the changing seasons and possible flower shortages.

Something to Consider
Chat with your florist about your possible postponement well before your final payment is due and before your wedding florist orders your flowers. Ask your florist and double check your contract. Once flowers have been ordered in most cases they can't be cancelled as the flowers will be en route from the farm to the wholesaler to your florist.

At Flowers by Janie, our cut off date for ordering is 3 weeks prior to the wedding date, this is also when the remaining balance is due. Check with your own florist as they may have a one month or 6 week cut off date and each florist's order cut off and final payment balance may be different. Our entire industry is hurting right now with weddings and events worldwide being cancelled and postponed. We can't ask the farmer or wholesaler to absorb your flower cost if you postpone last minute. In order to avoid paying extra costs and/or your final payment, make sure your florist knows not to place your final order.
These past few weeks have been hard on us as self employed business owners but also very difficult as we talk with couples and planners about postponing our March, April and May weddings dates. It has been a very interesting few weeks and I'm keeping a gratitude journal to remind myself of little joys and blessings. I'm going to start a garden which is something I never have time for with spring weddings and I'm going to keep working on my business to improve processes to serve our clients better when their wedding day does come around! Your wedding vendors are here for you so please reach out to us.
Flowers by Janie
---
advice from bellamore beauty
Tips from a Hair & Makeup Stylist
---
Our Tip: MAKE THE MOST OUT OF YOUR NONREFUNDABLE DEPOSITS
First and foremost, we highly encourage you to reschedule instead of cancelling all together. Most vendors are happy to accommodate rescheduled weddings, so you can still have the wedding you dreamed of, just on a different date!

However, if you do decide to elope, or get married at the courthouse; get creative and make the most of your non-refundable deposits! You can arrange a beautiful photoshoot here in the city, or take advantage of the gorgeous mountains in our backyard. Wear a white dress, get your hair and makeup done, order a gorgeous bouquet, work with your planner to coordinate little details to make it extra special, and your photographer can capture those beautiful moments of you and your new hubby.

Of course, you could also use these services for a big (or small) party to celebrate your marriage on a different date (when parties are once again allowed)! If you originally had booked a large group for hair and makeup and no longer have a "typical" wedding party, maybe ask your friends and family if they would like to get glammed up for the party, and get some photos together! Your deposits might not be refundable, but they certainly don't need to go to waste. Don't hesitate to share your ideas with your vendors or see if they have any ideas of their own; we want to help as much as we can.

Something to Consider
While most vendors are happy to accommodate rescheduled weddings, we know that availability might be a challenge as many brides race to rebook their big day in 2021. To ensure the availability of your vendors try looking at slower wedding months (November, January, Feb, March) or any day of the week that isn't Saturday. Your friends and family will be more than happy to take a day or two off work to celebrate you and your husband to be. While Friday and Sunday may seem like the obvious alternate choice, don't leave any day off the table! We have done makeup for weddings on Mondays, Tuesdays, Wednesdays and Thursdays. We promise you won't notice that it's not on a Saturday, and that the people who love you will be there!
---
---
THE PROS
We're so grateful to have these 4 lovely ladies bring their knowledge, expertise, & advice to our readers here at Bronte Bride! Here's a bit more about each of them and their amazing businesses!
---
MOMENTS BY MADELEINE
Hi! I'm Madeleine, the founder and lead planner of Moments By Madeleine Weddings & Events. I really think love is the most magical and creating a day full of those moments whether just the two of you or a hundred of your favourite people is why we do what we do.
So what do we do? We specialize in weddings and provide planning, design and coordination or a customized blend of services for our couples so that you can enjoy your engagement without all the stresses of planning. We are there alongside you from initial consultation till the close of the best day of your life!
---
ROCKY MOUNTAIN PHOTO CO
Hi I'm Lindsay! I specialize in shooting mountain weddings and adventure sessions in Banff and Canmore in the beautiful Rocky Mountains of Alberta, Canada where I'm fortunate enough to live and explore every day.
I seek natural light, genuine candid moments, and people in LOVE! I'm a true romantic and pride myself on making you feel comfortable and relaxed during your session. I love smiling, laughing, and most of all making amazing new friendships through photography. I value connection, communication and giving you the elevated photography experience you deserve to tell your unique love story.
---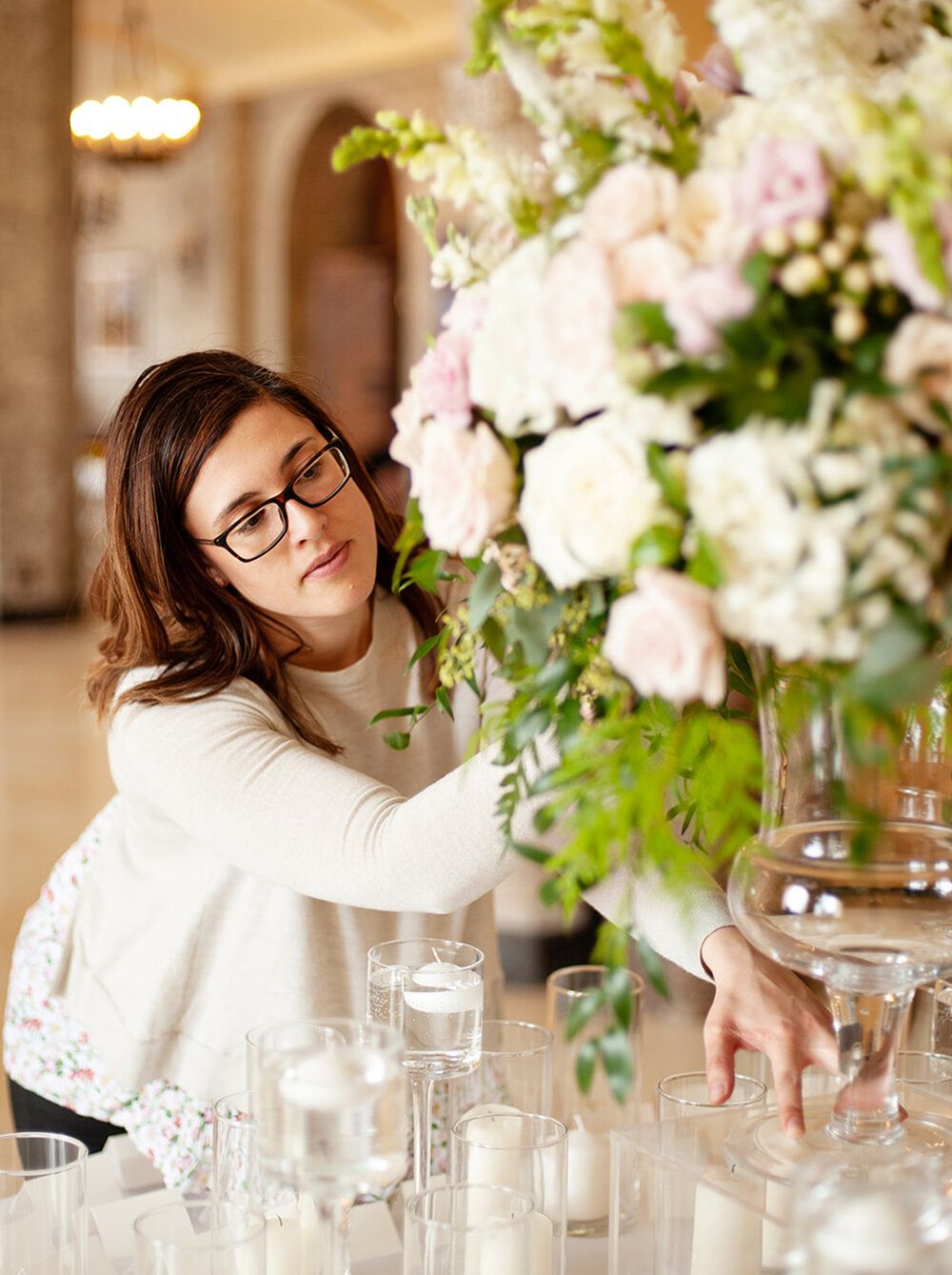 FLOWERS BY JANIE
Hi! I'm Janelle, owner and lead floral designer of Flowers by Janie Inc. I have been obsessed with flowers since I was little, my mom tells me I used to pick dandelion bouquets for her and call them flotters! I've since found that I'm attracted to peonies and hyacinths far more than to dandelions which I'm glad about because they smell way better!
My husband Oscar and I own a floral studio in Calgary, Alberta which we actually started in La Paz, Bolivia in 2011 shortly after we were married. We are huge fans of weddings (we'd get re-married every year if we could) but also big fans of the marriage that is built after the big day. I love weddings, marriages and flowers, and am so happy I found my passion early in life!
---
BELLAMORE BEAUTY
Hi I'm Shanda, owner of Bellamore Beauty! We are a passionate team of experienced beauty experts based out of Calgary, AB, dedicated to giving women confidence through hair and makeup that embraces and enhances their natural beauty.
Whether you want a full glam or a barely there, dewy fresh look we will use our skills and experience to highlight your most spectacular features and embrace your own version of beautiful. Our mission is to make you feel gorgeous, because you are.
---
---
More Resources For You
---